The six college hockey programs forming the new college hockey conference in 2013-14 will be holding their press conference Wednesday to announce the league and you can watch it live here. The press conference in Colorado Springs, Colo. starts at noon central. The new league consists of North Dakota, Minnesota-Duluth, Denver, Colorado College, Nebraska-Omaha and Miami.
With the new conference a done deal Wednesday, focus will shift to the next step in conference realignment. After reading various news reports, it looks like the CCHA is in trouble of losing more teams. Reports have Notre Dame mulling a decision between the new conference hand Hockey East. It is believed Western Michigan will be the other team headed for the new conference.
More importantly for Bemidji State, the WCHA could very well be making a move to add more teams. Matt Wellens at the Marquette Mining Journal is on top of the situation at Northern Michigan and it looks like the Wildcats are looking to the WCHA. Adding fire to that speculation is a report NMU has stopped returning phone calls to the CCHA and its member schools. Alaska-Fairbanks could be in the mix as well.
The Duluth News Tribune is reporting there will be a meeting between the five remaining WCHA teams on Friday in St. Paul. Could expansion come then? Stay tuned.
Bemidji State senior goalie Dan Bakala recently participated in the Calgary Flames development camp. He was one of seven players invited to the camp on amateur tryout agreements. Here he is pictured with Flames goaltending coach Clint Malarchuk.
BSU 2010-11 captain Matt Read has voluntarily decided to attend the Philadelphia Flyers' prospect camp. Here's a story from the Philadelphia Inquirer and another one from Philadelphia Sports Daily.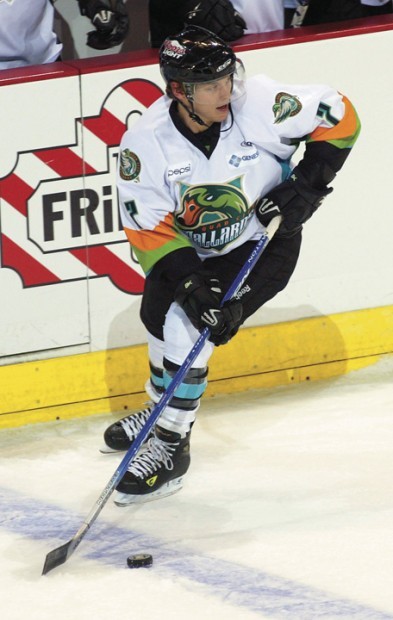 Bemidji State alum Matt Climie has moved on to his third professional team and recently signed a one-year contract with the Vancouver Canucks. He will be the fourth Canuck goalie under contract and he is entering his fourth professional season. He has played for Dallas and Phoenix in his career, and has played in five NHL games.
Bemidji State alum Brandon Marino (right) was the first player signed by the Quad-City Mallards of the CHL for the 2011-12 season. He has played the last two season there, scoring 23 goals and 82 points with 38 coming last season.
Bemidji State alum Matt Francis will play in England next year for the Notthingham Panthers.
The 2011-12 Bemidji State men's hockey roster is up and the incoming freshmen have picked their numbers for the upcoming season:
Sean Rudy – 2
Sam Windle – 15
Danny Mattson – 16
Tyler Tosunian – 19
Matt Prapavessis – 22
Mitch Cain – 27
Andrew Walsh – 30
David Boehm – 4
Brendan Harms of Steinbach, Manitoba has officially committed to Bemidji State for the 2013-14 season. The 16-year-old forward was drafted 80th overall in the sixth round by the Fargo Force in the recent USHL draft. He plans to play in Portage for the upcoming season and should join the Force the following year. Harms scored 28 goals and had 35 assists in 59 games for the Portage Terriers in the Manitoba Junior Hockey League last season. He ranked ninth in league scoring and is expected to play one more season in Portage before going to Fargo. Read more from Tim How at FargoForce.com
Known Bemidji State men's hockey prospect list
2012-13
–Phil Brewer (F, Burlington, OJHL), verbal commitment.
–Graeme McCormack (D, Nanaimo, BCHL), verbal commitment.
–Cody Strang (F, Youngstown, USHL) verbal commitment.
–Brad Robbins (F, Sioux City, USHL), verbal commitment.
2013-2014
Corey Petrash (F, Winnipeg Thrashers Midget), verbal commitment.
Bob Kinne (F, Cretin-Derham Hall), verbal commitment.
Brendan Harms (F, Portage Terriers, MJHL), verbal commitment .